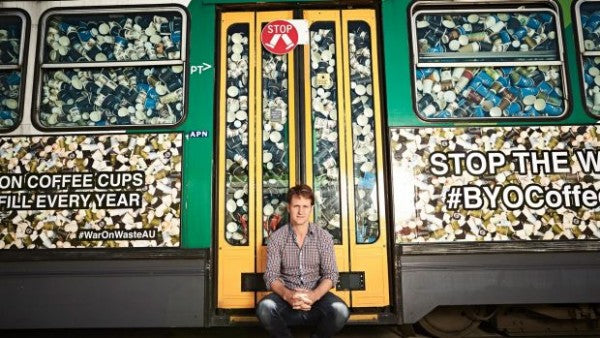 Did you know that you cannot recycle your take away coffee cups? We average about 2.7 MILLION coffee cups in a day here in Australia and these cups are not environmentally friendly! So that is why we are really pushing people to … #BYOCoffeeCup
Craig Reucassel from War on Waste. Doing AMAZING things
If you haven't yet checked out the War on Waste Series that aired on ABC you should!
Would it surprise you that disposable coffee cups actually have a lot of plastic in the lining of the cup? These cups have a plastic lining that when they go away, either end up in landfills where they don't biodegrade or they end up in environments where they become a major pollution hazard.
Coffee cups in Australia now make up the second largest contributor to litter behind plastic bottles. Here we were thinking that throwing them in the recycling bin was enough… weren't we wrong
As Peter Whish-Wilson says in a recent interview "I can't think of a bigger global pollution issue than plastics in our ocean. That is receiving no attention, no research and no-one's taking any action to do anything about it. The ocean's turning into a plastic soup. And given the ocean's the source of all life on this planet, we're going to end up choking. If you make a coffee cup, as a producer, what responsibility do you have to how that cup is recycled and what further use it has? It can't just be left to the consumer."
As consumers we need to stop using these disposable coffee cups! ASAP! That's where our stylish and Eco friendly PERK – Triple Insulated Stainless Steel Coffee and Tea Reusable Travel mugs come in handy. We love these NEW Coffee mugs and we know you will too!