EcoVessel Sweet Beer Steaks Recipe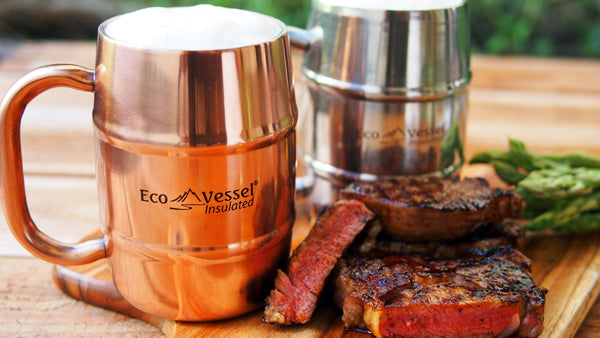 Nothing beats a hearty home cooked meal when you are traveling and an icy cold beer to wash it down. We have been inspired by quality beer for this recipe and there is no better mug to keep your brew cold whilst cooking than the our EcoVessel Double Barrel Insulated Beer Mugs.
SWEET BEER STEAKS
Ingredients
2 x (400g) sirloin or rib eye steaks
1/4 cup dark beer
2 tbsp teriyaki sauce
1-2 tbsp brown sugar
1/2 tsp rock salt
1/2 tsp pepper
1/2 crushed garlic
Method
Preheat BBQ for high heat
Mix together beer, teriyaki sauce, sugar, garlic, salt and pepper.
Pour sauce over steaks and let sit for 20-25 minutes to marinade (turning steaks after 10 mins)
Lightly oil the BBQ and cook steaks for 2-5mins per side. (depending on how you like it)
During the last few minutes of cooking pour the marinade over the steaks.