VINE Insulated Wine Bottle at Good Food & Wine Show Brisbane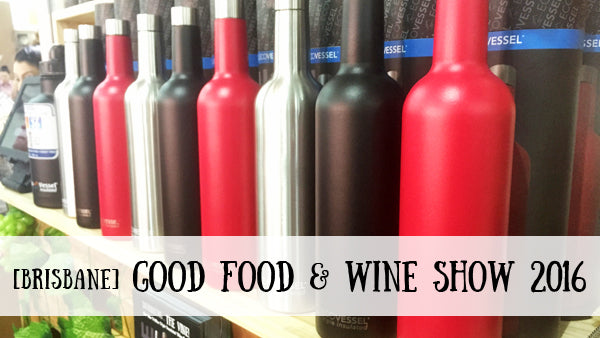 We recently attended the Good Food & Wine Show Brisbane! We were at the show to showcase our new VINE 750ml Triple Insulated Wine Bottle and gauge the public's interest in this unique, new product to the Australian & New Zealand market. The praise and feedback the VINE received was 100% positive and was better than we could have ever expected. Customers really fell in love with VINE, they loved the simplicity and cleverness of this stylish bottle.
Customers were instantly drawn to our eco-friendly pallet constructed stand, and to VINE's sleek & sophisticated design and attractive gift tube packaging. We met many fascinating people from all over Australia including some characters from really hot climates like Darwin and Western Australia. These customers informed us that in these hot climates they are required to keep their red wine in the fridge at all times as the heat will destroy it. VINE is the perfect companion for travelling and outdoor adventures, as no esky are required needed and your wine will stay the perfect temperature all day long.
Even if you don't drink wine you can put your favourite Non Alcoholic beverage in the VINE and keep it fresh and crispy cold or piping hot for hours on end. A great idea is getting Fresh Soda water with some crushed raspberries or strawberries and you have yourself the perfect Non Alcoholic Rose. Cheers to that!
Here's the main reasons customers bought a VINE 750ml Triple Insulated Wine Bottle at the show:
Great for any area or event with glass restrictions including pools
Ideal for picnics, the beach or even kids birthday parties, so no glass wine bottles are visible in public
Keeps white wine chilled for up to 36 hours so no need for a bulky esky or ice bucket
Keeps red wine the ideal temperature when travelling, ideal for hot climates like WA and NT
Triple Insulation prevents sweating and condensation on the bottle's exterior
Includes a collapsible silicone funnel for pouring and a brush for cleaning
Re-usable, recyclable, eco-friendly and BPA/phthalate free
Stylish design adds to the perfect table setting
We also received amazing feedback about our entire triple insulated drink bottle range at the Good Food & Wine Show Brisbane including our Boulder 700ml, Boss 1.9L Growler and Double Barrel Camping Mugs. All items are selling fast so make sure you get in quick and use the Coupon Code "20%off" when you're at the order checkout!