Message in a Bottle - EcoVessel is making a difference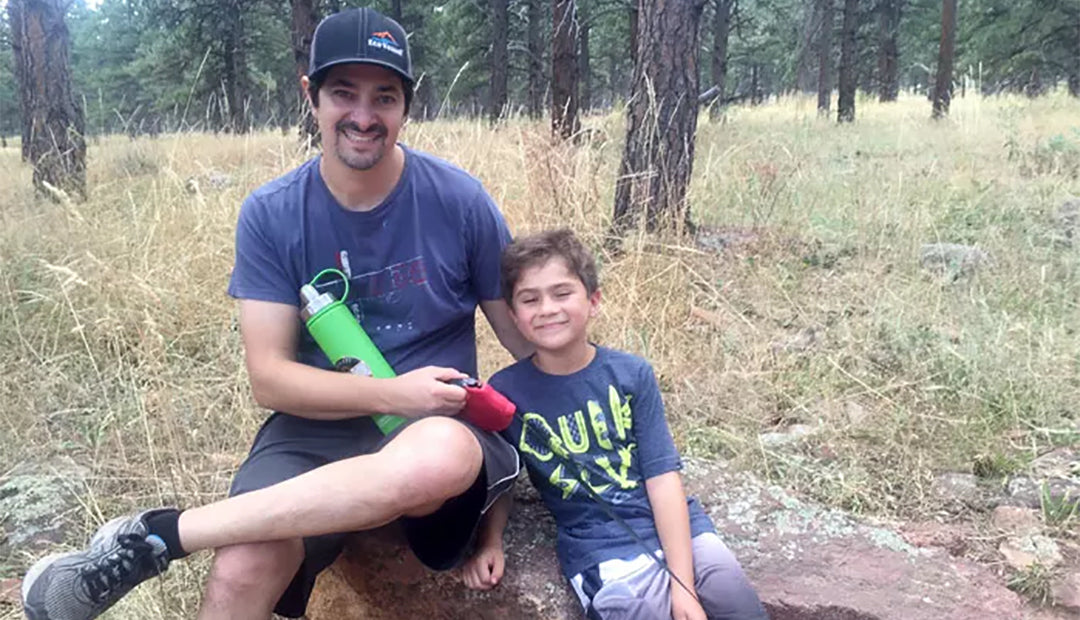 Message in a Reuseable Water Bottle
Jon Fox of EcoVessel talks about why he launched his water bottle company and how EcoVessel is making a difference in the lives of school-aged children all over the world.
Jonathan Fox believes you can change the world with something as simple as a bottle.
Not an ordinary plastic bottle but an insulated stainless-steel bottle built to last 100 years. He's been selling his premium insulated water bottles since 2011 when he founded EcoVessel.
His goal? To replace single-use plastic bottles that are literally filling up garbage cans at national parks and dumping grounds in landfills across the nation with reusable high-quality stainless-steel bottles that can keep beverages hot and cold all day and night.
"We focus on performance and design," he says from his Boulder, Colo., office, which has views of the Flatirons, the city's stunning sandstone rock formations that line miles of hiking trails. "We really create a connection with our customers and people who people who care about sustainability and stand behind our products with a 100-Year Warranty."
Today, EcoVessel sells vibrant-colored water bottles, mugs, tumblers and growlers that you can find online, in REI and in other outdoor retail shops. You can find The Port, a portable tumbler that conveniently holds wine, whiskey or coffee in gift shops in Death Valley National Park, Glacier National Park and Yellowstone National Park.
With national park recreation visits toppling 331 million in 2017, it's easy to calculate how much waste is created annually when each park visitor purchases, drinks from and discards just one disposable plastic bottle during his or her national park vacation.
Stacks of plastic water bottles ready for recycling
Deposit Photos
BPA Scare
But it was the health of his kids that initially got Fox started down the path of water bottle manufacturing.
He started EcoVessel after Bisphenol A, a common chemical found in plastic, began landing in headlines with alarming frequency. Beginning in 2008, BPA, a term few had heard, was making its debut during dinner conversations, at mother-and-baby playgroups and in schools. Mounting evidence linked BPA to developmental and reproductive problems, especially in young children, along with potential links to cancer and heart disease.
Parents like Fox with young children went looking for products without BPA. Alongside of them were outdoor enthusiasts dependent on water bottles during their hiking, biking, backpacking and climbing adventures.
There wasn't much out there, especially options to keep his drinks hot and cold.
At the time, Fox owned his own Rolfing, chiropractic and massage center in Boulder, focused on helping people feel better. As he began looking for BPA-free kids' bottles, he found very few that looked good and performed well. Before long, his search for a good BPA bottle turned into a mission to create a BPA-free water bottle that people would reuse over and over again.
"It's been our mission to create innovative hydration products which are reusable, work well and look great," Fox says. "And we've always fixated on having our products provide superior insulation as well as offering great product and design features."
Filling Water Bottles
But EcoVessel isn't just about water bottle sales.
It's helping children raise money for safe water bottle filling stations across the country through its partnership with Elkay, an American-owned manufacturer of a number of things including water bottle filling stations. You've probably seen Elkay water bottle filling stations in airports and national parks.
Fox likens EcoVessel's role in the partnership to the key role cookies play in the annual Girl Scout cookie fundraiser. EcoVessel creates a mock-up of each participating school's logo on an EcoVessel water bottle, creates a website if needed for the school fundraiser and offers the schools a discount on the bottles. The kids sell EcoVessel water bottles and use the money they make to purchase Elkay water bottle filling station's for their schools.
During the past year and a half, they have partnered with dozens of schools across the country.
Farther flung, it partners with Water for People, a Denver-based international nonprofit, that focuses on the development of high-quality drinking water and sanitation services in countries like Guatemala and India. EcoVessel helps raise awareness and funds for safe water and sanitation by creating special edition bottles and donating a portion of the proftis to Water for People. This summer, it's a sponsor of events the volunteer-led Thirsty Fest, a beer and music festival, held in Denver July 28, 2018.
A couple years ago, Fox traveled to Guatemala with Water for People to visit schools and villages to see the organization's impact. Not only was he amazed at how grateful villagers were to be connected with people who could help them, he was struck by how so many in the world lack basic essentials to stay healthy.
"There are some organizations that help dig wells, but Water for People staff stay on the ground," Fox says. "A lot of people they serve do not know how to brush their teeth or know hygienic practices like washing your hands, so Water for People tries to make its impact long-term."
What's Next
This summer, EcoVessel is launching a new 25 oz. bottle called The Aspen. Fox says it blends fashion with performance, separating EcoVessel from other outdoor brands that focus on utility over design. It keeps drinks cold for more than 100 hours and keeps hot drinks hot for more than 20 hours.
Yet, whether it's a new product like The Aspen or one that has been in the EcoVessel family since the company's early days, Fox always enjoys seeing his bottles in use in the outdoors and around town.
"It's amazing to see our products out around town and know that we are having an impact on helping to eliminate single-use plastics," Fox says. "And when schools send us photos of the filling stations, it's really great because we know we're making a difference."
Happy Hydrating!