Craft Beer and Brewing Magazine Growler Test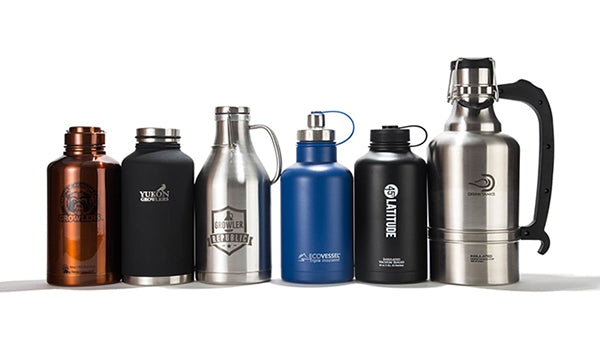 14 Growlers were tested in the Craft Beer and Brewing Growler Test & The EcoVessel Triple Insulated Boss Growler Dominated The Insulation Test! SHOP Our Award Winning Growlers HERE!
See the test results below (please note all sizes and pricing below is in US Dollars):
We asked the industry's leading growler manufacturers for test units, filled each with beer straight from the tap at 42.5° F (5.8° C), let them sit out overnight at room temperature (not refrigerated), and measured them roughly 24 hours later to see just how well their insulating properties performed. In addition, we inspected carbonation levels on the beer via sight and taste and rated each on a scale from low to high. We also tested two growlers with built-in draft pouring capability and one glass growler with a neoprene sleeve, for science (of course).
64 oz » $59.99
40 oz » $44.99
32 oz » $38.99
Replacement Lid » $9.99
Twisted Tumbler » $25.99–41.99
Ending Temperature: 49.4°F/9.7°C
Carbonation: High
Notes: The Smoky Mountain growler's copper color is on-trend, and the glossy surface is easy to clean. In terms of performance, it was in acceptable range on temperature and held a big and vibrant carbonation. The D-ring on the lid was a great touch, making it easy to carry and setting it apart from the pack.
64 oz » $49.95
Ending Temperature: 48.7°F/9.3°C
Carbonation: High
Notes: The matte-black finish and cord-attached lid of the Yukon growler gave it a unique look, and while we were nervous at first about the rough feel when tightening it, upon opening it we were excited by the exuberant carbonation. The growler and lid felt sturdy, and the ability to write on it with chalk adds a certain element of hipness for those who care about aesthetics as much as the beer itself.
The Flagon 64 oz » $39.99
The Tankard 64 oz » $39.99
Ending Temperature: 49.5°F/9.7°C
Carbonation: Moderate
Notes: We loved the welded handle of the Growler Republic growler—so many insulated growlers forego carrying options. Performance- wise, it lost 7 degrees of temperature in 24 hours—well within our acceptable range—and the moderate carb was also within range. The lid-sealing mechanism was easy to use, and the polished stainless-steel looks striking.
64 oz » $54.95
32 oz » $32.95
Insulated Beer Mug » $21.95–29.95
Ending Temperature: 45.4°F/7.4°C
Carbonation: Moderate
Notes: The claim of triple insulation was more than just hype with the EcoVessel growler—it was the top performer in terms of temperature retention. The fact that this growler lost only 3 degrees over almost 24 hours of sitting out unrefrigerated is very impressive, and the fit and finish of the unit were among the best.
64 oz » $26.97
Neoprene Sleeve » $12.97
30 oz Tumbler » $24.97
Ending Tempeature: 48.8°F/9.3°C
Carbonation: Moderate
Notes: This by-the-book insulated growler is cleanly designed, straightforward, and simple to use. Performance was right down the middle, with good temperature retention and moderate carbonation. The price, however, is the standout here. At $27, it's a no-brainer for those who want to keep their beer in great condition, without breaking the bank.
128 oz » $109–114
64 oz » $69–74
Accessory Kit » $45
24 Pack CO2 » $48
Ending Temperature: 46°F/7.8°C
Carbonation: Low
Notes: The larger 1-gallon volume of the Drinktanks growler provided a thermal mass that clearly kept the beer cold, despite the lack of refrigeration. However, the clamping mechanism on the top of the growler was more difficult to align than most of the competition, and the carbonation we experienced in the beer was lower as well.
64 oz » $29.99
Just the tote » $17.99
Ending Temperature: 62.8°F/17.1°C
Carbonation: High
Notes: We weren't expecting this glass growler and insulated neoprene carrier combo to perform at the same level as the double-wall insulated growlers in this test, and temperature-wise, it didn't. But we were honestly impressed with the big and fluffy carbonation we encountered—the proprietary glass growler and lid offer a very strong seal, protecting a vigorous carbonation.
64 oz » contact for individual quote
Ending Temperature: 48.7°F/9.3°C
Carbonation: Moderate
Notes: While we were a bit worried about the similarities between this screw-on lid and poorer performing versions we've tested in the past, we experienced no such weaknesses with this one. The growler, as a whole, was right down the middle in terms of performance—meeting all our performance expectations—and the keg styling, color options, and custom branding potential really set it apart.
128 oz » $199–299
64 oz » $139–159
CO2 Refills » $12–28
Carrying Bag » from $20
Carrying Case » $30
Ending Temperature: 62.5°F/16.9°C
Carbonation: High
Notes: While Growlerwerks has angered some early Kickstarter supporters by pacing their shipments while continuing to market and sell new units, there's a valid business reason behind the decision and there's a reason folks continue to buy these in droves. The temperature performance we noted requires that you keep it on ice or refrigerated to maintain temp if you're going to take it out for longer periods of time, but the built-in CO2 pressurizer and tap are the most stylish we've seen.
64 oz » $64.95
32 oz » $44.95
Hydro Flip™ » $4.95
Ending Temperature: 47.7°F/8.7°C
Carbonation: Moderate
Notes: Back in 2015 when we first tested insulated growlers, the Hydro Flask lid leaked, and as a result we couldn't recommend it. Hydro Flask went back to the drawing board with their newest model, fixing the issues with the previous cap to ensure a tight seal. Performance-wise, it met expectations, and the screw-on hanging loop is a nice addition—it's great for hooking onto a backpack with a carabiner or grabbing with a finger.
64 oz » $69.95
32 oz » $54.95
Compatible Caps » $5.95+
Steel Pint » $9.95
Ending Temperature: 47.0°F/8.3°C
Carbonation: Moderate
Notes: Our top performer in 2015's test has settled into mid-pack among the current crop, but that's not because its performance has changed—the competition has simply improved that much. We still like the tight, secure, and easily replaceable seal on the lid, and while the narrow neck makes it slightly tougher to clean than wide mouth options, its precision when pouring is worth the trade-off.

128 oz » $269
Mancan Survival Kit » $25
Perfect Pour Regulator System » $42.50–45
Flex Tap System » $135
Ending Temperature: 61.3°F/16.3°C
Carbonation: High
Notes: It's not insulated, but what the ManCan does offer is a bulletproof sealing lid that is one of the most flexible we've seen—the standard ball lock fittings for CO2 and a picnic tap make it perfect for everyone from homebrewers with keezers to casual drinkers looking for a standalone fridge system. One of our favorites!
64 oz » $34.99
Sleeve w/ Strap » $22.99
Replacement Cap » $9.99
Ending Temperature: 47.6°F/8.7°C
Carbonation: Moderate High
Notes: While the style of the Winterial growler is pretty similar to others, it exhibited very good carbonation and temperature retention. For the $35 asking price, it's hard to beat this kind of performance. And the optional nylon carrying sleeve offers a great way to strap it to a pack or sling it over your shoulder.
64 oz » $25.99
Ending Temperature: 63.1°F/17.3°C
Carbonation: Moderate
Notes: We first encountered ProKeg's stainless-steel growlers while at Societe Brewing in San Diego (thanks for the growler of The Butcher, guys!) and loved the simple construction and branding potential. It's a single wall growler, so it isn't meant to be left out overnight like some of the others, but at roughly $25, it provides all the care and coolness of stainless-steel (including an attached sealing cap) at a very affordable price.
PHOTOS: MATT GRAVES
GEAR TEST BY: BEER & BREWING MAGAZINE